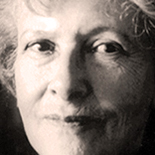 Denise Levertov (October 24, 1923 – December 20, 1997) was a British-born American poet.
Denise Levertov wrote many poems with religious themes throughout her career. These poems range from religious imagery to implied metaphors of religion. One particular theme was developed progressively throughout her poetry. This was the pilgrimage/spiritual journey of Levertov towards the deep spiritual understanding and truth in her last poems.
One of her earlier poems is "A Tree Telling of Orpheus", from her book Relearning the Alphabet. This poem uses the metaphor of a tree, which changes and grows when it hears the music of Orpheus. This is a metaphor of spiritual growth. The growth of the tree is like the growth of faith, and as the tree goes through life we also go through life on a spiritual journey. Much of Levertov's religious poetry was concerned with respect for nature and life. Also among her themes were nothingness and absence.
THE AVOWAL
Denise Levertov
As swimmers dare
to lie face to the sky
and water bears them,
as hawks rest upon air
and air sustains them,
so would I learn to attain
freefall, and float
into Creator Spirit's deep embrace,
knowing no effort earns
that all-surrounding grace.
=========
IMMERSION
Denise Levertov
There is anger abroad in the world, a numb thunder,
because God's silence. But how naïve,
to keep wanting words we could speak ourselves,
English, Urdu, Tagalog, the French of Tours,
the French of Haiti…
Yes, that was one way omnipotence chose
to address us—Hebrew, Aramaic, or whatever the patriarchs
chose in their turn to call what they heard. Moses
demanded the word, spoken and written. But perfect freedom
assured other ways of speech. God is surely
patiently trying to immerse us in a different language,
events of grace, horrifying scrolls of history
and the unearned retrieval of blessings lost for ever,
the poor grass returning after drought, timid, persistent.
God's abstention is only from human dialects. The holy voice
utters its woe and glory in myriad musics, in signs and portents.
Our own words are for us to speak, a way to ask and to answer.