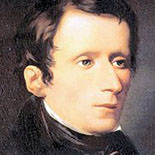 Giacomo Taldegardo Francesco di Sales Saverio Pietro Leopardi (June 29, 1798 – June 14, 1837) was an Italian poet, philosopher, essayist and philologist.
He is widely acknowledged to have been one of the most radical and challenging thinkers of the 19th century. Although he lived in a secluded town in the ultra-conservative Papal States, he came in touch with the main thoughts of the Enlightenment, and, by his own literary evolution, created a remarkable and renowned poetic work, related to the Romantic era. The extraordinarily lyrical quality of his poetry made him a central protagonist in the European and international literary and cultural landscape.
THE INFINITE
Giacomo Leopardi
This solitary hill has always been dear to me
And this hedge, which prevents me from seeing most of
The endless horizon.
But when I sit and gaze, I imagine, in my thoughts
Endless spaces beyond the hedge,
An all encompassing silence and a deeply profound quiet,
To the point that my heart is almost overwhelmed.
And when I hear the wind rustling through the trees
I compare its voice to the infinite silence.
And eternity occurs to me, and all the ages past,
And the present time, and its sound.
Amidst this immensity my thought drowns:
And to founder in this sea is sweet to me.
============
TO THE MOON
Giacomo Leopardi
O lovely moon, how well do I recall
The time,–'tis just a year–when up this hill
I came, in my distress, to gaze at thee:
And thou suspended wast o'er yonder grove,
As now thou art, which thou with light dost fill.
But stained with mist, and tremulous, appeared
Thy countenance to me, because my eyes
Were filled with tears, that could not be suppressed;
For, oh, my life was wretched, wearisome,
And _is_ so still, unchanged, belovèd moon!
And yet this recollection pleases me,
This computation of my sorrow's age.
How pleasant is it, in the days of youth,
When hope a long career before it hath,
And memories are few, upon the past
To dwell, though sad, and though the sadness last!