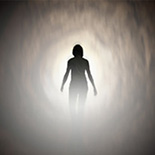 Joseph Leftwich (1892 – March 7, 1983), born Joseph Lefkowitz, was a British-Jewish critic and translator into English of Yiddish literature.
Leftwich is known for his 1939 anthology The Golden Peacock of Yiddish poetry, and his 1957 biography of Israel Zangwill.
DEATH IS NOT STRANGE
Joseph Leftwich

Death is not strange.
Strange is life,
that flesh can think,
and body believe,
that dust can sing;
that a clod of earth
for one's lifetime
can house God.
That dead things live
when touched by God's breath,
is the miracle, not death.