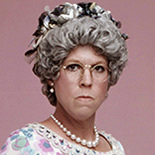 Victoria Ann "Vicki" Lawrence (born March 26, 1949) is an American actress, comedienne and singer.
Lawrence is best known for her co-starring role on The Carol Burnett Show, alongside her mentor Carol Burnett, from 1967 to 1978, and as the explosively quick-tempered, abrasive-mannered, and smart-aleck Thelma Harper/Mama (the elderly supporting character first on The Carol Burnett Show's The Family sketches, followed by the main character on its spin-off television series Mama's Family, airing from 1983 to 1990).
As a singer she recorded "The Night the Lights Went Out in Georgia" that made #1 on the US chart as well as in Canada. She is credited with co-authoring two books.
She has multiple Emmy Award nominations, winning one in 1976. She is also a multiple Golden Globe nominee, all for The Carol Burnett Show.