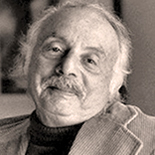 Stanley Jasspon Kunitz (July 29, 1905 – May 14, 2006) was an American poet. He was appointed Poet Laureate Consultant in Poetry to the Library of Congress twice, first in 1974 and then again in 2000.
About his own work, Kunitz has said: "The poem comes in the form of a blessing—'like rapture breaking on the mind,' as I tried to phrase it in my youth. Through the years I have found this gift of poetry to be life-sustaining, life-enhancing, and absolutely unpredictable. Does one live, therefore, for the sake of poetry? No, the reverse is true: poetry is for the sake of the life."
Kunitz was deeply committed to fostering community among artists, and was a founder of the Fine Arts Work Center in Provincetown, Massachusetts, and Poets House in New York City. Together with his wife, the painter Elise Asher, he split his time between New York City and Provincetown, Massachusetts. He died at the age of 100 on May 14, 2006.
THE KNOT
Stanley Kunitz
I've tried to seal it in,
that cross-grained knot
on the opposite wall,
scored in the lintel of my door,
but it keeps bleeding through
into the world we share.
Mornings when I wake,
curled in my web,
I hear it come
with a rush of resin
out of the trauma
of its lopping-off.
Obstinate bud,
sticky with life,
made for the rain again,
it racks itself with shoots
that crackle overhead,
dividing as they grow.
Let be! Let be!
I shake my wings
and fly into its boughs.