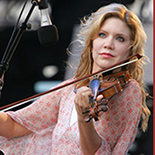 Alison Maria Krauss (born July 23, 1971) is an American bluegrass-country singer-songwriter and musician.
Krauss entered the music industry at an early age and recorded for the first time at fourteen. She signed with Rounder Records in 1985 and released her first solo album in 1987. She was invited to join the band with which she still performs, Alison Krauss and Union Station (AKUS), and later released her first album with them as a group in 1989.
As of 2012, she has won 27 Grammy Awards from 41 nominations, making her tied as the most awarded living recipient, three behind the most honored artist, classical conductor Sir Georg Solti. She is also the most awarded singer and the most awarded female artist in Grammy history.