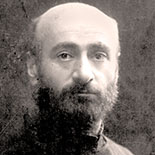 Soghomon Soghomonian, known as Komitas (September 26, 1869 – October 22, 1935), was an Armenian priest, composer, choir leader, singer, music ethnologist, music pedagogue and musicologist.
Many regard him as the founder of modern Armenian classical music.
Komitas experienced a mental breakdown after witnessing the horrors of 1915 Armenian Genocide and is considered a martyr of the genocide.