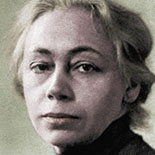 Kathe Kollwitz (July 8, 1867 – April 22, 1945) was a German painter, printmaker, and sculptor whose work offered an eloquent and often searing account of the human condition, and the tragedy of war, in the first half of the 20th century. Her empathy for the less fortunate, expressed most famously through the graphic means of drawing, etching, lithography, and woodcut, embraced the victims of poverty, hunger, and war. Initially her work was grounded in Naturalism, and later took on Expressionistic qualities.
"Her silent lines penetrate the marrow like a cry of pain; such a cry was never heard among the Greeks and Romans." — Gerhart Hauptmann
Dore Hoyer and what had been Mary Wigman's dance school created Dances for Käthe Kollwitz. The dance was performed in Dresden in 1946.
Käthe Kollwitz is a subject within William T. Vollmann's Europe Central, a 2005 National Book Award winner for fiction. In the book, Vollmann describes the lives of those touched by the fighting and events surrounding World War II in Germany and the Soviet Union. Her chapter is entitled "Woman with Dead Child", after her sculpture of the same name.
An enlarged version of a similar Kollwitz sculpture, Mother with her Dead Son, was placed in 1993 at the center of Neue Wache in Berlin, which serves as a monument to "the Victims of War and Tyranny".
More than 40 German schools are named after Kollwitz. Two museums, one in Berlin and Cologne, are dedicated solely to her work. The Käthe Kollwitz Prize, established in 1960, is named after her.