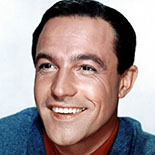 Eugene Curran "Gene" Kelly (August 23, 1912 – February 2, 1996) was an American dancer, actor, singer, film director, producer, and choreographer.
Kelly was known for his energetic and athletic dancing style, his good looks and the likeable characters that he played on screen.
Although he is known today for his performances in Anchors Aweigh (1945), An American in Paris (1951) and Singin' in the Rain (1952), he was a dominant force in Hollywood musical films from the mid-1940s until this art form fell out of fashion in the late 1950s. His many innovations transformed the Hollywood musical film, and he is credited with almost single-handedly making the ballet form commercially acceptable to film audiences.
Kelly was the recipient of an Academy Honorary Award in 1952 for his career achievements. He later received lifetime achievement awards in the Kennedy Center Honors (1982), and from the Screen Actors Guild and American Film Institute; in 1999, the American Film Institute also numbered him 15th in their Greatest Male Stars of All Time list.