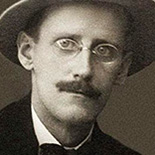 James Augustine Aloysius Joyce (February 2, 1882 – January 13, 1941) was an Irish novelist and poet, considered to be one of the most influential writers in the modernist avant-garde of the early 20th century.
Joyce is best known for Ulysses (1922), a landmark work in which the episodes of Homer's Odyssey are paralleled in an array of contrasting literary styles, perhaps most prominent among these the stream of consciousness technique he perfected. His complete oeuvre also includes three books of poetry, a play, occasional journalism, and his published letters.
Joyce was born into a middle class family in Dublin, where he excelled as a student at the Jesuit schools Clongowes and Belvedere, then at University College Dublin. In his early twenties he emigrated permanently to continental Europe, living in Trieste, Paris and Zurich. Though most of his adult life was spent abroad, Joyce's fictional universe does not extend far beyond Dublin, and is populated largely by characters who closely resemble family members, enemies and friends from his time there; Ulysses in particular is set with precision in the streets and alleyways of the city. Shortly after the publication of Ulysses he elucidated this preoccupation somewhat, saying, "For myself, I always write about Dublin, because if I can get to the heart of Dublin I can get to the heart of all the cities of the world. In the particular is contained the universal."
AT THAT HOUR
James Joyce
At that hour when all things have repose,
O lonely watcher of the skies,
Do you hear the night wind and the sighs
Of harps playing unto Love to unclose
The pale gates of sunrise?
When all things repose, do you alone
Awake to hear the sweet harps play
To Love before him on his way,
And the night wind answering in antiphon
Till night is overgone?
Play on, invisible harps, unto Love,
Whose way in heaven is aglow
At that hour when soft lights come and go,
Soft sweet music in the air above
And in the earth below.
=============
(Excerpt from Ulysses)
and then I asked him with my eyes to ask again yes
and then he asked me would I yes…
and first I put my arms around him yes
and drew him down to me so he could feel my breasts all perfume yes
and his heart was going like mad
and yes I said yes I will Yes.