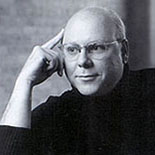 Richard Jones is an American poet, born August 8, 1953.
Jones is the author of seven books of poetry, most recently The Correct Spelling & Exact Meaning (Copper Canyon Press, 2010), as well as a number of limited edition volumes. The Blessing: New and Selected Poems, a selection of poems from six of his books, received the Midland Authors Award for Poetry for 2000. He is also the editor of the critical anthology Poetry and Politics (William Morrow and Company, 1985).
In 2000, he published a compact disc, Body and Soul, in which he discusses the art of poetry. In 2011, he published Thunder on the Mountain (East of Eden Press), a nonfiction book that explores the relationship between poetry and painting. He is editor of the literary journal Poetry East and its many anthologies, including The Last Believer in Words and Bliss. He is currently professor of English at DePaul University in Chicago, where he has taught since 1987.
HOW DID YOU MEET YOUR WIFE?
Richard Jones
Swimming the English Channel,
struggling to make it to Calais,
I swam into Laura halfway across.
My body oiled for warmth,
black rubber cap on my head,
eyes hidden behind goggles,
I was exhausted, ready to drown,
when I saw her coming toward me,
bobbing up and down between waves,
effortlessly doing a breaststroke,
heading for Dover. Treading water
I asked in French if she spoke English,
and she said, "Yes, I'm an American."
I said, "Hey, me too," then asked her out for coffee.
========
WAN CHU'S WIFE IN BED
Richard Jones
Wan Chu, my adoring husband,
has returned from another trip
selling trinkets in the provinces.
He pulls off his lavender shirt
as I lie naked in our bed,
waiting for him. He tells me
I am the only woman he'll ever love.
He may wander from one side of China
to the other, but his heart
will always stay with me.
His face glows in the lamplight
with the sincerity of a boy
when I lower the satin sheet
to let him see my breasts.
Outside, it begins to rain
on the cherry trees
he planted with our son,
and when he enters me with a sigh,
the storm begins in earnest,
shaking our little house.
Afterwards, I stroke his back
until he falls asleep.
I'd love to stay awake all night
listening to the rain,
but I should sleep, too.
Tomorrow Wan Chu will be
a hundred miles away
and I will be awake all night
in the arms of Wang Chen,
the tailor from Ming Pao,
the tiny village down the river.