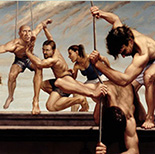 Guy Johnson is an American poet and the son of Maya Angelou, born 1945.

THE PSALM OF UNSEVERED STRINGS
Guy Johnson
Yet, if spirit remains,
A human can still be seen
Amidst the disobedient flesh.
And, if the will has life,
Even wood can be made to dance.
Thus, when you see them among the crowds,
You have seen the true puppeteers,
For with gossamer thread
Each ligament, nerve and limb is moved
To rejoin life's wild carousel.