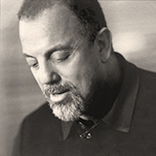 William Martin "Billy" Joel (born May 9, 1949) is an American pianist, singer-songwriter, and composer.
Since releasing his first hit song, "Piano Man", in 1973, Joel has become the sixth-best-selling recording artist and the third-best-selling solo artist in the United States, according to the RIAA. His compilation album Greatest Hits Vol. 1 & 2 is the third-best-selling album in the United States by discs shipped.
Joel had Top 40 hits in the 1970s, 1980s, and 1990s, achieving 33 Top 40 hits in the United States, all of which he wrote himself. He is also a six-time Grammy Award winner, a 23-time Grammy nominee and one of the world's best-selling artists of all time, having sold over 150 million records worldwide. He was inducted into the Songwriter's Hall of Fame (1992), the Rock and Roll Hall of Fame (1999), and the Long Island Music Hall of Fame (2006). In 2008, Billboard magazine released a list of the Hot 100 All-Time Top Artists to celebrate the US singles chart's 50th anniversary, with Billy Joel positioned at No. 23. With the exception of the 2007 songs "All My Life" and "Christmas in Fallujah", Joel stopped writing and recording popular music after 1993's River of Dreams, but he continued to tour extensively until 2010.
AND SO IT GOES
Lyrics by Billy Joel
In every heart there is a room,
a sanctuary safe and strong,
to heal the wounds
from lovers past,
until a new one comes along.
i spoke to you in cautious tones
you answered me with no pretense,
and still i feel
i said too much
my silence is my self defense.
and every time i've held a rose,
it seems i only felt the thorns,
and so it goes, and so it goes
and so will you soon i suppose
but if my silence made you leave
then that would be my worst mistake,
so i will share this room with you
and you can have this heart to break.
and this is why my eyes are closed
it's just as well for what i've seen,
and so it goes and so it goes,
and you're the only one who knows
so i will choose to be with you,
that's if the choice were mine to make
but you can make decisions too
and you can have this heart to break
and so it goes and so it goes,
and your the only one who knows