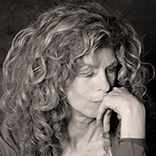 Marie Howe (born 1950) is a noted American poet.
Her first book, The Good Thief, was selected by Margaret Atwood as the winner of the 1987 Open Competition of the National Poetry Series. In 1998, she published her best-known book of poems, What the Living Do; the title poem in the collection is a haunting lament for her brother with the plain-spoken last line: "I am living, I remember you." Howe's brother John died of an AIDS-related illness in 1989. "John's living and dying changed my aesthetic entirely," she has said. In 1995, Howe co-edited, with Michael Klein, a collection of essays, letters, and stories entitled In the Company of My Solitude: American Writing from the AIDS Pandemic. Her poems have appeared in literary journals and magazines including The New Yorker, The Atlantic, Poetry, Agni, Ploughshares, and Harvard Review. Her honors include National Endowment for the Arts and Guggenheim fellowships.
ANNUNCIATION
Marie Howe
Even if I don't see it again—nor ever feel it
I know it is—and that if once it hailed me
it ever does—
And so it is myself I want to turn in that direction
not as towards a place, but it was a tilting
within myself,
as one turns a mirror to flash the light to where
it isn't—I was blinded like that—and swam
in what shone at me
only able to endure it by being no one and so
specifically myself I thought I'd die
from being loved like that.
==========
DEATH, THE LAST VISIT
Marie Howe
Hearing a low growl in your throat, you'll know that it's started.
It has nothing to ask you. It has only something to say, and
it will speak in your own tongue.
Locking its arm around you, it will hold you as long as you ever wanted.
Only this time it will be long enough. It will not let go.
Burying your face in its dark shoulder, you'll smell mud and hair and water
You'll taste your mother's sour nipple, your favorite salty cock
and swallow a word you thought you'd spit out once and be done with,
Though half-closed eyes you'll see that its shadow looks like yours,
a perfect fit. You could weep with gratefulness. It will take you
as you like it best, hard and fast as a slap across your face,
or so sweet and slow you'll scream give it to me until it does.
Nothing will ever reach this deep. Nothing will ever clench this hard.
At last (the little girls are clapping, shouting) someone has pulled
the drawstring of your gym bag closed enough and tight. At last
someone has knotted the lace of your shoe so it won't ever come undone.
Even as you turn into it, even as you begin to feel yourself stop,
you'll whistle with amazement between your residual teeth oh jesus
oh sweetheart, oh holy mother, nothing nothing nothing ever felt this good.