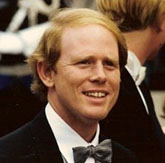 Ronald William "Ron" Howard (born March 1, 1954) is an American film director, producer and actor.
He came to prominence playing Opie Taylor in the sitcom The Andy Griffith Show for eight years, and later the teenaged Richie Cunningham in the sitcom Happy Days for six years.He appeared in the films The Music Man in 1962, American Graffiti in 1973, and The Shootist in 1976, the latter during his run on Happy Days.
Howard made his directorial debut with the 1977 comedy Grand Theft Auto, and left Happy Days in 1980 to focus on directing. His films include Cocoon, Apollo 13, How the Grinch Stole Christmas and A Beautiful Mind, which earned Howard the Academy Award for Best Director. In 2002, Howard conceived the idea for the Fox/Netflix series Arrested Development, on which he also serves as producer and narrator, and plays a semi-fictionalized version of himself.
In 2003, Howard was awarded the National Medal of Arts. Asteroid 12561 Howard is named after him. In 2013, Howard was inducted into the Television Hall of Fame.