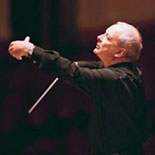 Christopher Jarvis Haley Hogwood (September 19, 1941 – September 24, 2014) was an English conductor, harpsichordist, writer, and musicologist.
Founder of the early music ensemble the Academy of Ancient Music, he was an authority on historically informed performance and a leading figure in the early music revival of the late 20th century.
In 1967, Hogwood co-founded the Early Music Consort with David Munrow. In 1973 he founded the Academy of Ancient Music, which specializes in performances of Baroque and early Classical music using period instruments. The Early Music Consort was disbanded following Munrow's death in 1976, but Hogwood continued to perform and record with the Academy of Ancient Music.
From 1981, Hogwood conducted regularly in the United States. He was Artistic Director of Boston's Handel and Haydn Society from 1986 to 2001, and for the remainder of his life held the title of Conductor Laureate. From 1983 to 1985 he was artistic director of the Mostly Mozart Festival in the Barbican Centre in London. From 1988 to 1992, he was musical director of the Saint Paul Chamber Orchestra in Minnesota.