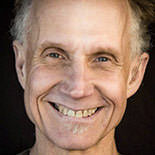 Anthony Dey Hoagland (November 19, 1953 – October 23, 2018) was an American poet, is the author of witty, poignant poems that comment on contemporary American life and culture.
His poetry collection 2003, What Narcissism Means to Me, was a finalist for the National Book Critics Circle Award. Other honors include two grants from the National Endowment for the Arts, a 2000 Guggenheim Fellowship in Poetry, and a fellowship to the Provincetown Fine Arts Work Center. His poems and criticism have appeared in such publications as Poetry Magazine, Ploughshares, Agni, Threepenny Review, The Gettysburg Review, Ninth Letter, Southern Indiana Review, American Poetry Review, and Harvard Review.
ASTROLOGY
Tony Hoagland
It's so clear tonight, and calm,
that if I stepped outside,
and raised my head, I imagine
I could see the silver
chest of Orion,
the hummingbird tattoo upon
the outside of its thigh.
And further back, the unfathomable
dark, which makes it possible for him
to draw his bow,
and gives him room to choose
a target for the night.
So I remember the luxury of what
I've had the poor taste in the past
to call, sometimes, our loneliness,
which is the absence of others
who have left us stranded here,
with only oxygen to breathe
and nothing more than time
to breathe it in.
And I honor, for a moment, the million
things forgotten, the things
which have so graciously
forgotten me—the bulging
saddlebags of history, the myriad, self-cancelling
blunders and eurekas
of fathers and mothers
of fathers and mothers and fathers—
who have handed down something
of tremendous importance
by handing down nothing
but plenty of quiet and dark.
And in the fields of sky above our houses,
these well-lit
hieroglyphics, open to
our own interpretation.
==========
GRAMMAR
Tony Hoagland
Maxine, back from a weekend with her boyfriend,
smiles like a big cat and says
that she's a conjugated verb.
She's been doing the direct object
with a second person pronoun named Phil,
and when she walks into the room,
everybody turns:
some kind of light is coming from her head.
Even the geraniums look curious,
and the bees, if they were here, would buzz
suspiciously around her hair, looking
for the door in her corona.
We're all attracted to the perfume
of fermenting joy,
we've all tried to start a fire,
and one day maybe it will blaze up on its own.
In the meantime, she is the one today among us
most able to bear the idea of her own beauty,
and when we see it, what we do is natural:
we take our burned hands
out of our pockets,
and clap.
=========
MISSION
Tony Hoagland
When I remember Susan, she is always
kneeling over me, looking down,
her green, nineteen-year-old eyes
wide open & half blind
as the flush spreads
between the freckles on her high cheekbones.
Her lips turn scarlet as I put her fingers in my mouth
and our hips are locked into each other
like the guidance systems of two rockets
whose only mission at this moment
is to make the other blow up first.
This time it's her, and her face
takes on the troubled, is-this-pain-
or-pleasure? look that people wear
when the train they're waiting for
comes through the station wall in flames,
the long legs of the water tower break
and desire drowns in its own destination.
We don't notice that we are young,
or that she is going to have four kids
with an Italian oilman,
or that I'll get sick and stay that way
for year, caught in my condition
like a fly in glue.
We won't know each other then.
Right now, all systems are go, everything
exactly where it needs to be.
Except her pale breasts are hanging
where I can't quite reach them
with my breathless mouth.