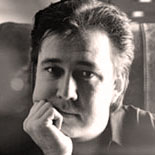 William Melvin "Bill" Hicks (December 16, 1961 – February 26, 1994) was an American stand-up comedian, social critic, satirist, and musician.
His material, encompassing a wide range of social issues as well as religion, politics, and philosophy, was controversial, and often steeped in dark comedy. He criticized consumerism, superficiality, mediocrity, and banality within the media and popular culture, which he characterized as oppressive tools of the ruling class that "keep people stupid and apathetic".
At age 16, while still in high school, he began performing at the Comedy Workshop in Houston, Texas. During the 1980s he toured the United States extensively and made a number of high-profile television appearances; but it was in the UK that he amassed a significant fan base, filling large venues during his 1991 tour. He also achieved a modicum of recognition as a guitarist and songwriter.
Hicks died of pancreatic cancer in 1994 at the age of 32. After being diagnosed with cancer, Hicks would often joke that any given performance would be his last. The public, however, was unaware of Hicks's condition. Only a few close friends and family members knew of his disease. Hicks performed the final show of his career at Caroline's in New York on January 6, 1994. He moved back to his parents' house in Little Rock, Arkansas, shortly thereafter. He called his friends to say goodbye, before he stopped speaking on February 14.
In subsequent years — in particular after a series of posthumous album releases — his body of work gained a significant measure of acclaim in creative circles, and he developed a substantial "cult" following. In 2007 he was voted the fourth greatest stand-up comic on Channel 4's list of the UK's 100 Greatest Stand-Ups, and he maintained that ranking on the updated 2010 list.