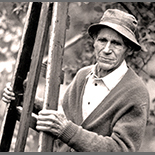 Olav Håkonson Hauge (August 18, 1908– May 23, 1994) best known as Olav H. Hauge, is considered one of the foremost Norwegian poets of the modernist tradition in the 20th century.
He was a gardener and translated many English and American writers into Norwegian.
BRIAR ROSE
Olav Hauge
The rose has been sung about.
I want to sing of the thorns,
and the root–how it grips
the rock hard, hard
as a thin girl's hand.
==========
IT IS THAT DREAM
Olav H. Hauge
It's that dream we carry with us
That something wonderful will happen,
That it has to happen,
That time will open,
That the heart will open,
That doors will open,
That the mountains will open,
That wells will leap up,
That the dream will open,
That one morning we'll slip in
To a harbor that we've never known.