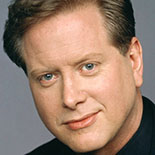 Darrell Clayton Hammond (born October 8, 1955) is an American actor, stand-up comedian and impressionist.
Hammond was a regular member of "The Not Ready For Prime Time Players Company" on Saturday Night Live from 1995 to 2009, the longest tenure of any cast member in the show's history.
Upon his departure, Hammond, at age 53, was also the oldest cast member in the show's history. Hammond made more SNL appearances than any other cast member and impersonated more than 107 celebrities, with Bill Clinton as his most frequent impression.
Hammond held the record for most impersonations by an SNL cast member with 107, until he was surpassed by Kenan Thompson on May 3, 2014. As of December 10, 2011, he had appeared on the show eight times since leaving the cast.
On September 19, 2014, Hammond was announced as the new announcer of SNL, replacing Don Pardo, who had died the month before. In May 2015, he began portraying Colonel Sanders in television commercials for Kentucky Fried Chicken, although he was replaced by Norm Macdonald, also a former SNL cast member, just three months later.