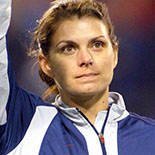 Mariel Margaret "Mia" Hamm-Garciaparra (born March 17, 1972) is a retired American professional soccer player.
Hamm is two time olympic gold medalist and FIFA Women's World Cup winner. She played many years as a forward for the United States women's national soccer team and was a founding member of the Washington Freedom. Hamm held the record for international goals, more than any other player, male or female, in the history of soccer, until 2013 when fellow American Abby Wambach scored her 159th goal to break the record. Hamm is also the third most capped female player in soccer history behind Kristine Lilly and Christie Rampone, appearing in 275 international matches. She also holds the national team record for most career assists with 144.
Hamm was named the women's FIFA World Player of the Year the first two times that award was given (in 2001 and 2002), and is listed as one of FIFA's 125 best living players (as chosen by Pelé) being one of two women, accompanied by teammate Michelle Akers.[3] She was inducted into the National Soccer Hall of Fame as well as the Alabama Sports Hall of Fame, the Texas Sports Hall of Fame, and the World Football Hall of Fame.
Mia Hamm is the author of Go For the Goal: A Champion's Guide to Winning in Soccer and Life and appeared in the HBO documentary Dare to Dream: The Story of the U.S. Women's Soccer Team. Washington Post columnist Michael Wilbon called Hamm, "Perhaps the most important athlete of the last 15 years."