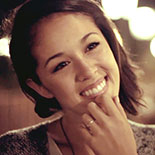 Kina Kasuya Grannis (born August 4, 1985) is an American guitarist and singer-songwriter.
She is half Japanese and half European American. Grannis was the winner of the Doritos Crash the Super Bowl contest. As a result of winning, she earned a recording contract with Interscope Records and had her music video played during the commercials of Super Bowl XLII on February 3, 2008. She won Best Web-Born Artist at the 2011 MTV O Music Awards.
Her progress in the competition was covered in The Orange County Register and The Wall Street Journal. Grannis has also been featured on FOX News Los Angeles, Good Day L.A. and Yahoo!.