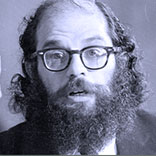 Irwin Allen Ginsberg (June 3, 1926 – April 5, 1997) was an American poet.
He was one of the leading figures of both the Beat Generation of the 1950s and the counterculture that soon would follow. He vigorously opposed militarism, economic materialism and sexual repression. Ginsberg is best known for his epic poem "Howl", in which he denounced what he saw as the destructive forces of capitalism and conformity in the United States.
In 1957, "Howl" attracted widespread publicity when it became the subject of an obscenity trial, as it depicted heterosexual and homosexual sex at a time when sodomy laws made homosexual acts a crime in every U.S. state. "Howl" reflected Ginsberg's own homosexuality and his relationships with a number of men, including Peter Orlovsky, his lifelong partner. Judge Clayton W. Horn ruled that "Howl" was not obscene, adding, "Would there be any freedom of press or speech if one must reduce his vocabulary to vapid innocuous euphemisms?"
Ginsberg was a practicing Buddhist who studied Eastern religious disciplines extensively. He lived modestly, buying his clothing in second-hand stores and residing in downscale apartments in New York's East Village. One of his most influential teachers was the Tibetan Buddhist, the Venerable Chögyam Trungpa, founder of the Naropa Institute, now Naropa University at Boulder, Colorado. At Trungpa's urging, Ginsberg and poet Anne Waldman started The Jack Kerouac School of Disembodied Poetics there in 1974.
Ginsberg took part in decades of non-violent political protest against everything from the Vietnam War to the War on Drugs. His poem "September on Jessore Road," calling attention to the plight of Bangladeshi refugees, exemplifies what the literary critic Helen Vendler described as Ginsberg's tireless persistence in protesting against "imperial politics, and persecution of the powerless."
His collection The Fall of America shared the annual U.S. National Book Award for Poetry in 1974. In 1979 he received the National Arts Club gold medal and was inducted into the American Academy and Institute of Arts and Letters. In 1986 he was awarded the Golden Wreath of the Struga Poetry Evenings in Struga, Macedonia. Ginsberg was a Pulitzer Prize finalist in 1995 for his book Cosmopolitan Greetings: Poems 1986–1992.
(Excerpt)
KADDISH
Allen Ginsberg
Hymmnn
In the world which He has created according to his will Blessed Praised
Magnified Lauded Exalted the Name of the Holy One Blessed is He!
In the house in Newark Blessed is He! In the madhouse Blessed is He! In the house of Death Blessed is He!
Blessed be He in homosexuality! Blessed be He in Paranoia! Blessed be He in the city! Blessed be He in the Book!
Blessed be He who dwells in the shadow! Blessed be He! Blessed be He!
Blessed be you Naomi in tears! Blessed be you Naomi in fears! Blessed Blessed Blessed in sickness!
Blessed be you Naomi in Hospitals! Blessed be you Naomi in solitude! Blest be your triumph! Blest be your bars! Blest be your last years' loneliness!
Blest be your failure! Best be your stroke! Blest be the close of your eye! Blest be the gaunt of your cheek! Blest be your withered thighs!
Blessed be Thee Naomi in Death! Blessed be Death! Blessed be Death!
Blessed be He Who leads all sorrow to Heaven! Blessed be He in the end!
Blessed be He who builds Heaven in Darkness! Blessed Blessed Blessed be He! Blessed be He! Blessed be Death on us All!
==========
PLEASE MASTER
Allan Ginsberg
Please master can I touch your cheek
please master can I kneel at your feet
please master can I loosen your blue pants
please master can I gaze at your golden haired belly
please master can I gently take down your shorts
please master can I have your thighs bare to my eyes
please master can I take off your clothes below your chair
please master can I kiss your ankles and soul
please master can I touch lips to your muscle hairless thigh
please master can I lay my ear pressed to your stomach
please master can I wrap my arms around your white ass
please master can I lick your groin curled with soft blond fur
please master can I touch my tongue to your rosy asshole
please master may I pass my face to your balls,
please master, please look into my eyes,
please master order me down on the floor,
please master tell me to lick your thick shaft
please master put your rough hands on my bald hairy skull
please master press my mouth to your prick-heart
please master press my face into your belly, pull me slowly strong thumbed
till your dumb hardness fills my throat to the base
till I swallow and taste your delicate flesh-hot prick barrel veined Please
Master push my shoulders away and stare into my eye, & make me bend over the table
please master grab my thighs and lift my ass to your waist
please master your rough hand's stroke on my neck your palm down my backside
please master push me up, my feet on chairs, till my hole feels the breath of your spit and your thumb stroke
please master make me say Please Master Fuck me now Please
Master grease my balls and hairmouth with sweet vaselines
please master stroke your shaft with white creams
please master touch your cock head to my wrinkled self-hole
please master push it in gently, your elbows enwrapped around my breast
your arms passing down to my belly, my penis you touch w/ your little fingers
please master shove it in me a little, a little, a little,
please master sink your droor thing down my behind
& please master make me wiggle my rear to eat up the prick trunk
till my asshalfs cuddle your thighs, my back bent over
till I'm alone sticking out your sword stuck throbbing in me
please master pull out and slowly roll into the bottom
please master lunge it again, and withdraw to the tip
please please master fuck me again with your self, please fuck me Please
Master drive it down till it hurts me the softness the
Softness please master make love to my ass, give body to center & fuck me for good like a girl,
tenderly clasp me please master I take me to thee,
& drive in my belly your selfsame sweet heat-rood
your fingered in solitude Denver or Brooklyn or fucked in a maiden in Paris carlots
please master drive me thy vehicle, body of love drops, sweat fuck
body of tenderness, Give me your dog fuck faster
please master make me go moan on the table
Go moan O please master do fuck me like that
in your rhythm thrill-plunge and pull-back bounce & push down
till I loosen my asshole a dog on the table yelping with terror delight to be loved
Please master call me a dog, an ass beast, a wet asshole
& fuck me more violent, my eyes hid with your palms round my skull
& plunge down in a brutal hard lash thru soft drip-fish
& throb thru five seconds to spurt out your semen heat
over & over, bamming it in while I cry out your name I do love you
please Master.
========
SONG
Allen Ginsberg
The weight of the world
is love.
Under the burden
of solitude,
under the burden
of dissatisfaction
the weight,
the weight we carry
is love.
Who can deny?
In dreams
it touches
the body,
in thought
constructs
a miracle,
in imagination
anguishes
till born
in human—
looks out of the heart
burning with purity—
for the burden of life
is love,
but we carry the weight
wearily,
and so must rest
in the arms of love
at last,
must rest in the arms
of love.
No rest
without love,
no sleep
without dreams
of love—
be mad or chill
obsessed with angels
or machines,
the final wish
is love
—cannot be bitter,
cannot deny,
cannot withhold
if denied:
the weight is too heavy
—must give
for no return
as thought
is given
in solitude
in all the excellence
of its excess.
The warm bodies
shine together
in the darkness,
the hand moves
to the center
of the flesh,
the skin trembles
in happiness
and the soul comes
joyful to the eye—
yes, yes,
that's what
I wanted,
I always wanted,
I always wanted,
to return
to the body
where I was born.