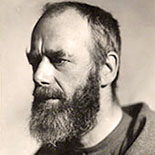 Arthur Eric Rowton Gill (February 22, 1882 – November 17, 1940) was an English sculptor, typeface designer, stonecutter and printmaker, who was associated with the Arts and Crafts movement.
He is a controversial figure, with his well-known religious views and subject matter being seen as at odds with his sexual and paraphiliac behavior and erotic art.
Gill was named Royal Designer for Industry, the highest British award for designers, by the Royal Society of Arts. He also became a founder-member of the newly established Faculty of Royal Designers for Industry.