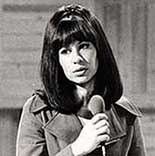 Astrud Gilberto (born March 30, 1940) is a Brazilian samba and bossa nova singer.
She is well known for her performance of the Grammy Award-winning song "The Girl from Ipanema". Gilberto received the Latin Jazz USA Award for Lifetime Achievement in 1992, and was inducted into the International Latin Music Hall of Fame in 2002. In 1996, she contributed to the AIDS benefit album Red Hot + Rio produced by the Red Hot Organization, performing the song "Desafinado" (Portuguese for "slightly out of tune", or "off key") along with George Michael. Although she did not officially retire, Gilberto announced in 2002, that she was taking "indefinite time off" from public performances.
Her original recording of "Fly Me to the Moon" was edited as a duet using a recording of the same song by Frank Sinatra for the soundtrack of Down with Love (2003). Her recording "Who Can I Turn To?" was sampled by The Black Eyed Peas in the song "Like That" from the album Monkey Business. Her vocals on "Berimbau" were sampled by Cut Chemist in his song "The Garden". Her recording of "Once I Loved" was featured in the 2007 film Juno.
—————————-
"Garota de Ipanema" ("The Girl from Ipanema") is a well-known bossa nova song, a worldwide hit in the mid-1960s that won a Grammy for Record of the Year in 1965. It was written in 1962, with music by Antônio Carlos Jobim and Portuguese lyrics by Vinicius de Moraes. English lyrics were written later by Norman Gimbel.
The first commercial recording was in 1962, by Pery Ribeiro. The version performed by Astrud Gilberto, along with João Gilberto and Stan Getz, from the 1964 album Getz/Gilberto, became an international hit, reaching number five in the United States pop chart, number 29 in the United Kingdom, and charting highly throughout the world. Numerous recordings have been used in films, sometimes as an elevator music cliché (for example, near the end of The Blues Brothers). It is believed to be the second-most recorded pop song in history, after "Yesterday" by The Beatles. In 2004, it was one of 50 recordings chosen that year by the Library of Congress to be added to the National Recording Registry.
When sung by female artists the song has often been rendered as "The Boy from Ipanema", such as by Shirley Bassey, Peggy Lee, Petula Clark on the Muppet Show, and Diana Krall on her 2009 album Quiet Nights.
THE GIRL FROM IPANEMA
Portuguese lyrics by Vinicius de Moraes
Tall and tanned and young and lovely
the girl from Ipanema goes walking
and when she passes
each man she passes
goes Aaah!
When she moves it's like a samba
that swings so cool and sways so gently
that when she passes
each man she passes
goes Aaah!
Oh – but he watches so sadly
How – can he tell her he loves her
He – would just give his heart gladly
But each day when she walks to the sea
She looks straight ahead not at he
Tall and tanned and young and lovely
the girl from Ipanema goes walking
and when she passes
he smiles
but she doesn't see
no she doesn't see
she just doesn't see…