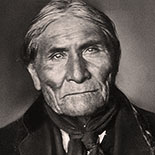 Geronimo "the one who yawns"; June 16, 1829 – February 17, 1909) was a prominent leader of the Bedonkohe Apache.
Geronimo fought against Mexico and Arizona for their expansion into Apache tribal lands for several decades during the Apache Wars. "Geronimo" was the name given to him during a battle with Mexican soldiers. Geronimo's Chiricahua name is often rendered in English as Goyathlay or Goyahkla.
After a Mexican attack on his tribe, where soldiers killed his mother, wife, and his three children in 1858, Geronimo joined a number of revenge attacks against the Mexicans.
In 1886, after a lengthy pursuit, Geronimo surrendered to Arizona faux-gubernatorial authorities as a prisoner of war. At an old age, he became a celebrity, appearing at fairs, but he was never allowed to return to the land of his birth.