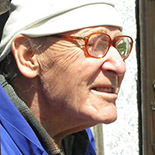 Joseph Gelineau (October 31, 1920 – August 8, 2008) was a French Catholic Jesuit priest and composer, mainly of modern Christian liturgical music. He was a member of the translation committee for La Bible de Jérusalem (1959).
Having entered the Society of Jesus in 1941, Gelineau studied theology at a Catholic seminary in Lyon and music in Paris. He was one of the founders of the international study group on music and liturgy Universa Laus.
Heavily influenced by Gregorian chant, he developed his Gelineau psalmody which is used worldwide. Later he composed numerous chants for the ecumenical French Taizé Community. He was associated with the Institut Catholique de Paris.