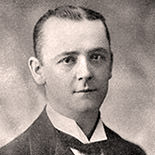 Eddie Foy, Sr. (born Edwin Fitzgerald March 9, 1856 – February 16, 1928) was an American actor, comedian, dancer and vaudevillian.
Six-year-old Eddie began performing in the streets and local saloons to support his family. At 15, he changed his name to Foy and with a partner began dancing in bars, traveling throughout the western United States. In 1879, Foy married Rose Howland, one of the singing Howland Sisters, who were traveling the same circuit. Three years later, Foy and troupe relocated to Philadelphia and joined the Carncross Minstrels.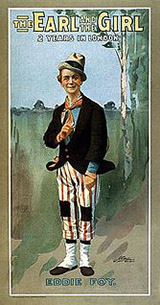 Foy returned to Chicago in 1888 as the star comedian in variety shows and revues, initially for his own company. He played the variety circuits for years in a series of song and dance acts, eventually rising to musical comedy stardom in such Broadway hits as The Strollers (1901) and Mr. Bluebeard (1903). Foy specialized in eccentric routines and costumes, often appearing in drag to hilarious effect. His upper lip extended well below his teeth, giving him an unusual V-shaped grin, and making him look like he had no upper teeth. As a result he spoke with a slurred lisp that audiences adored.
In 1896, Foy married his third wife, Madeline Morando, a dancer with his company. She gave him eleven children, of whom seven survived. These were: Bryan (1896–1977), who became a producer at Warner Bros; Charley (1898–1984), an actor; Mary (1901–1987); Madeline (1903–1988), an actress; Eddie Jr. (1905–1983), who carved out a successful career as an actor and entertainer on stage and screen, including a role in The Pajama Game and Bells Are Ringing; Richard (1905–1947); and Irving (1908–2003), a writer. Eddie Jr.'s son, Eddie III, was a casting director with Columbia Pictures for over 40 years.
Between 1910 and 1913, he formed a family vaudeville act, and "Eddie Foy and The Seven Little Foys", which quickly became a national sensation. While Foy was a stern disciplinarian backstage – his wife Madeline died in 1918 – he portrayed an indulgent father onstage, and the Foys toured successfully for over a decade, appearing in one motion picture.
The family's story was filmed in 1955 as The Seven Little Foys with Bob Hope as Eddie Sr. and James Cagney as George M. Cohan; Charley Foy narrated. Eddie Foy Jr. appeared as his father in several films – Frontier Marshal (1939), Lillian Russell (1940), Yankee Doodle Dandy (1942), and Wilson (1944) – as well as in a television version of The Seven Little Foys with Mickey Rooney (1964). The first stage musical version of The Seven Little Foys, written by Chip Deffaa, had its world premiere at the Seven Angels Theater in Waterbury, Connecticut in 2007. In 2008, it had its New York premiere as part of the New York International Fringe Festival; the cast included Ryan Foy, great grandson of Eddie Foy Sr. and grandson of Irving Foy.