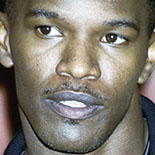 Eric Marlon Bishop (born December 13, 1967), known professionally as Jamie Foxx, is an American actor, singer, songwriter, and stand-up comedian.
As an actor, his work in the 2004 film Ray earned him the Academy Award and BAFTA Award for Best Actor as well as the Golden Globe Award for Best Actor in a musical or comedy. The same year, he was nominated for the Academy Award for Best Supporting Actor for his role in the action film Collateral.
He is also a Grammy Award winning musician, producing three albums which have charted highly on the Billboard 200: Unpredictable, which topped the chart, Best Night of My Life, and Intuition. Foxx starred in his own television show, The Jamie Foxx Show, as Jamie King. In 2012, Foxx starred in the film Django Unchained, and in 2014, he played the villain Electro in The Amazing Spider-Man 2.