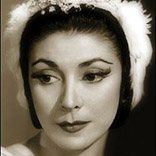 Dame Margot Fonteyn de Arias, (May 18, 1919 – February 21, 1991), was an English ballerina.
She is widely regarded as one of the greatest classical ballet dancers of all time. She spent her entire career as a dancer with The Royal Ballet, eventually being appointed Prima Ballerina Assoluta of the company by Queen Elizabeth II.



In the 1940s she and Robert Helpmann formed a very successful dance partnership, and they toured together for several years. In the 1950s, she danced regularly with Michael Somes (they had first danced together in 1938, when they created Constant Lambert's Horoscope). In 1955 they danced together in the first ever color telecast of a ballet, NBC's production of The Sleeping Beauty. In 1958 they appeared together in the first British televised version of The Nutcracker. She named him the favorite partner of her entire career.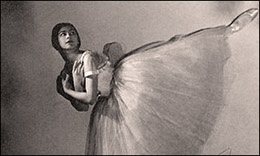 Fonteyn began her greatest artistic partnership at a time when many (including the head of the Royal Ballet, Ninette de Valois) thought she was about to retire. In 1961, Rudolf Nureyev defected to the West, and on February 21, 1962 he and Fonteyn first performed together in Giselle. She was 42 and he was 24. Their performance was a great success; during the curtain calls Nureyev dropped to his knees and kissed Fonteyn's hand. They created an on-and-offstage partnership that lasted until her retirement in 1979 at age 61, and were lifelong friends. Fonteyn and Nureyev became known for inspiring repeated frenzied curtain calls and bouquet tosses. Sir Frederick Ashton choreographed Marguerite and Armand for them, which no other couple danced until the 21st century. They debuted Kenneth MacMillan's Romeo and Juliet, although MacMillan had conceived the ballet for Lynn Seymour and Christopher Gable. Fonteyn and Nureyev appeared together in the filmed versions of MacMillan's Romeo and Juliet, Swan Lake, Les Sylphides, and the Le Corsaire Pas de Deux.
Despite differences in background and temperament, and a 19-year gap in ages, Nureyev and Fonteyn became close lifelong friends and were famously loyal to each other. Fonteyn would not approve an unflattering photograph of Nureyev. He said about her:
"At the end of 'Lac des Cygnes' when she left the stage in her great white tutu I would have followed her to the end of the world."
The extent of their physical relationship remains unclear; Nureyev said that they had one, while Fonteyn denied it. Her biographer Meredith Daneman agreed with Nureyev. The duo remained close even after she retired to a Panama cattle farm with her husband. She would talk with Nureyev by phone several times a week, although her farmhouse did not have a telephone. When she had to be treated for cancer, he paid many of her medical bills and visited her often, despite his busy schedule as a performer and choreographer. In a documentary about Fonteyn, Nureyev said that they danced with "one body, one soul" and that Margot was "all he had, only her." An observer said that "If most people are at level A, they were at level Z." (Nureyev had his own health problems as he was HIV positive; he died of AIDS in 1993). In the extremely competitive world of ballet, Fonteyn was renowned for her consummate professionalism and loyalty to her friends.