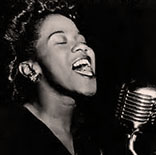 Ella Jane Fitzgerald (April 25, 1917 – June 15, 1996) was an American jazz vocalist with a vocal range spanning three octaves.
Often referred to as the "First Lady of Song" and the "Queen of Jazz," she was noted for her purity of tone, impeccable diction, phrasing and intonation, and a "horn-like" improvisational ability, particularly in her scat singing.
Fitzgerald was a notable interpreter of the Great American Songbook. Over the course of her 60-year recording career, she sold 40 million copies of her 70-plus albums, won 14 Grammy Awards and was awarded the National Medal of Arts by Ronald Reagan and the Presidential Medal of Freedom by George H. W. Bush.