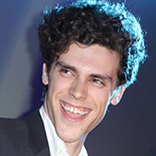 Charlie Fink (born May 16, 1986) is a British songwriter, producer and filmmaker.
He is best known for fronting the indie folk-rock band Noah and the Whale. Fink formed the band in 2006 along with violinist and former classmate Tom Hobden, bassist Matt "Urby Whale" Owens and his brother Doug. During the band's earlier years Fink had a relationship with Laura Marling, who appears on their debut album Peaceful, the World Lays Me Down. Their break-up was the inspiration for band's follow-up, The First Days of Spring. Fink continues to front Noah and the Whale, and announced their fourth album, which is named Heart of Nowhere and was released May 6, 2013.; accompanied by a short film.
Fink produced Laura Marling's first album Alas I Cannot Swim, which was nominated for the Mercury Music Prize. He has also produced music for Charlotte Gainsbourg, Jay Jay Pistolet and Rae Morris.
He has directed a number of his band's music videos and a short film that accompanied their second album 'The First Days Of Spring'.
GIVE A LITTLE LOVE
Lyrics by Noah and the Whale
Well I know my death will not come
'Til I breathe all the air out my lungs
'Til my final tune is sung
That all is fleeting
Yeah, but all is good
And my love is my whole being
And I've shared what I could
But if you give a little love, you can get a little love of your own
Don't break his heart
Yeah if you give a little love, you can get a little love of your own
Don't break his heart
Well my heart is bigger than the earth
And though life is what gave it love first
Life is not all that it's worth
'Cause life is fleeting
Yeah, but I love you
And my love surrounds you like an ether
In everything that you do
But if you give a little love, you can get a little love of your own
Don't break his heart
Yeah if you give a little love, you can get a little love of your own
Don't break his heart
Yeah if you give a little love, you can get a little love of your own
Don't break his heart
Yeah if you give a little love, you can get a little love of your own
Don't break his heart
Well if you are (what you love)
And you do (what you love)
I will always be the sun and moon to you
And if you share (with your heart)
Yeah, you give (with your heart)
What you share with the world is what it keeps of you