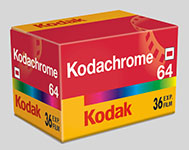 Kodachrome is a brand name for a non-substantive, color reversal film introduced by Eastman Kodak in 1935.
It was one of the first successful color materials and was used for both cinematography and still photography.
Because of its complex processing requirements, the film was sold process-paid in the United States until 1954 when a legal ruling prohibited this. Elsewhere, this arrangement continued. For many years it was used for professional color photography, especially for images intended for publication in print media. Because of the uptake of alternative photographic materials, its complex processing requirements, and the widespread transition to digital photography, Kodachrome lost its market share, its manufacturing was discontinued in 2009 and its processing ended in December 2010.