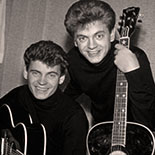 The Everly Brothers were American country-influenced rock and roll singers, known for steel-string guitar playing and close harmony singing.
The duo, consisting of Isaac Donald "Don" Everly (born February 1, 1937) and Phillip "Phil" Everly (January 19, 1939 – January 3, 2014), were elected to the Rock and Roll Hall of Fame in 1986 and the Country Music Hall of Fame in 2001.
The music of the Everly Brothers is acknowledged to have influenced many successful musicians, including the Beatles, who famously once referred to themselves as "the English Everly Brothers" (when Paul and John went hitch-hiking down south to win a talent competition) and based the vocal arrangement of "Please Please Me" upon "Cathy's Clown". Keith Richards called Don Everly "one of the finest rhythm players". Singer-songwriter Paul Simon who worked with the pair on his hit Graceland said in an email the day after Phil's death: "Phil and Don were the most beautiful sounding duo I ever heard. Both voices pristine and soulful. The Everlys were there at the crossroads of country and R&B. They witnessed and were part of the birth of rock and roll.
In 1986, the Everly Brothers were among the first 10 artists inducted into the Rock and Roll Hall of Fame. During the ceremony, they were introduced by Neil Young, who observed that every musical group he belonged to had tried and failed to copy the Everly Brothers' harmonies.