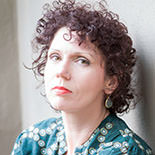 Jill Alexander Essbaum (born 1971 in Bay City, Texas, United States) is an American poet, writer, and professor. Her most recent collections are the full-length manuscripts Harlot (No Tell Motel, 2007) and Necropolis (neoNuma Arts, 2008). Essbaum's poetry features puns, wordplay and dark humor, often mixed with religious and erotic imagery. She currently teaches at the University of California Riverside Palm Desert Graduate Center in the Masters of Creative Writing Graduate Program. Essbaum's debut novel, Hausfrau was published March 2015 (Random House).
POEM
Jill Alexander Essbaum
A clementine
Of inclement climate
Grows tart.
A crocus
Too stoic to open,
Won't.
Like an oyster
That cloisters a spoil of pearls,
Untouched—
The heart that's had
Enough
Stays shut.