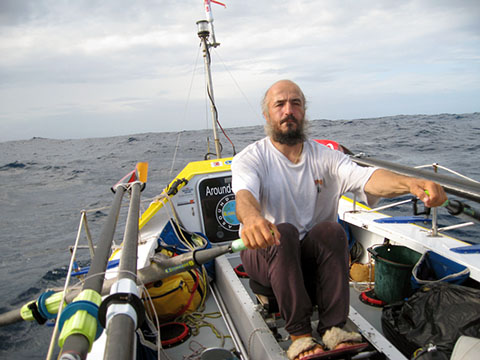 Erden Eruç, born 1961 is a Turkish adventurer who became the first person in history to complete an entirely solo and entirely human-powered circumnavigation of the Earth on July 21, 2012 in Bodega Bay, California, United States. The journey had started from Bodega Bay a little more than five years earlier on July 10, 2007. The modes of transport included a rowboat to cross the oceans, a sea kayak for shorelines, a bicycle on the roads and hiking on trails, along with canoes for a few river crossings. The route he followed was 66,299 km (41,196 mi) long, crossed the equator twice and all lines of longitude, and passed over twelve pairs of antipodal points, meeting all the requirements for a true circumnavigation of the globe.
The human-powered circumnavigation plan had been expanded to include summitting the tallest mountains on six continents as a tribute to his friend and fellow adventurer Göran Kropp. Eruç named the expedition the Six Summits Project, which is sometimes referred to as the Six Summits Expedition. So far he has summitted three of the peaks including Mount McKinley (also known as Denali) in North America on May 29, 2003 more than four years before he began his solo circumnavigation, then Mount Kosciuszko in Australia and Mount Kilimanjaro in Africa during the circumnavigation. Eruç still plans to climb the remaining three mountains on future journeys: Mount Everest in Asia, Mount Elbrus in Europe and Aconcagua in South America.
By the end of his circumnavigation, Eruç had set several ocean rowing world records including the first person to row three oceans, the most continuous (non-stop) days at sea by a solo ocean rower – 312 days on the Pacific Ocean, the first rower to cross the Indian Ocean from Australia to mainland Africa (in two segments), the first rower to cross any ocean from the southern to the northern hemisphere and the longest distance rowed across the Atlantic Ocean at 9,817 km (6,100 mi), as well as the most experienced living ocean rower with 876 days at sea and 28,581 career nautical miles.
A documentary film called Castaway With Purpose is in production as of 2014 that will feature Eruç's circumnavigation.