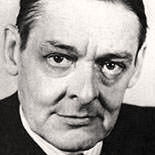 Thomas Stearns Eliot (September 26, 1888 – January 4, 1965) was a publisher, playwright, literary and social critic.
Eliot is "arguably the most important English-language poet of the 20th century". Although he was born an American, he moved to the United Kingdom in 1914 (at age 25) and was naturalized as a British subject in 1927 at age 39.
The poem that made his name, The Love Song of J. Alfred Prufrock—started in 1910 and published in Chicago in 1915—is seen as a masterpiece of the Modernist movement, and was followed by some of the best-known poems in the English language, including Gerontion (1920), The Waste Land (1922), The Hollow Men (1925), Ash Wednesday (1930), and Four Quartets (1945). He is also known for his seven plays, particularly Murder in the Cathedral (1935). He was awarded the Nobel Prize in Literature in 1948.
(Excerpt)
FOUR QUARTETS
T. S. Eliot
I said to my soul, be still, and let the dark come upon you
Which shall be the darkness of God. As, in a theater,
The lights are extinguished, for the scene to be changed
With a hollow rumble of wings, with a movement of darkness on darkness,
And we know that the hills and the trees, the distant panorama
And the bold imposing facade are all being rolled away-
Or as, when an underground train, in the tube, stops too long between stations
And the conversation rises and slowly fades into silence
And you see behind every face the mental emptiness deepen
Leaving only the growing terror of nothing to think about;
Or when, under ether, the mind is conscious but conscious of nothing-
I said to my soul, be still, and wait without hope
For hope would be hope for the wrong thing; wait without love,
For love would be love of the wrong thing; there is yet faith
But the faith and the love and the hope are all in the waiting.
Wait without thought, for you are not ready for thought:
So the darkness shall be the light, and the stillness the dancing.