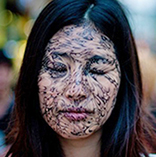 Erica Ehrenberg is a graduate of Amherst College and the Creative Writing M.F.A. Program at NYU. Her poems have appeared in journals and anthologies including The New Republic, Slate, jubilat, Octopus, The St. Ann's Review, Dancing With Joy (Crown, 2007) and Everyman's Library Pocket Poets: Poems About Horses (Knopf, 2009). Born and raised in New York City, she has received fellowships from the Fine Arts Work Center in Provincetown and from Stanford University where she was a Wallace Stegner Fellow in Poetry. She currently lives in Brooklyn and is completing her first collection of poetry, Bruno Goes to the City of the Night to Plead for His Possessions.
THE MOST CARELESS GIRL
Erica Ehrenberg
The most careless girl in the class had the most exquisite body,
the constant proximity of which exhausted us,
not least because her awkwardness,
so unlike ours, manifested itself as a license
to kick off all consciousness of her limbs
like a branch one smacks out of one's face
in the woods in an act of defiance, almost contempt,
whose ironic outcome was the deepest inhabitation
of flesh I have ever seen. It was through her body
that I wanted to pass close to the bodies of the boys.
She would take me home with her and all but throw me
into the dark dynamics of her empty-seeming household,
which I felt to be hung with heavily stitched draperies
that concealed not only the rooms but the beings inside.
She took me there and spun me into her weird intimacy
in which my own self-consciousness was a pestering
insect— stupid, negligible. She would speak to people, to men,
to anyone in the streets and walk just as quickly off,
implicating me in the desire she aroused,
her uncontainability streaking through me a blazing
trail of lights from high in the whitest part of my head
down into my lungs, my entrails,
the part of me that wasn't breathing.
========
WHEN I WAS YOUNG
Erica Ehrenberg
When I was young, I had sex
with boys without touching them.
It was very quick and often
happened in English class, like the passing
of an insect through a doorway.
I didn't know what was going on,
but all the windows would open
and it would be raining.
It had nothing to do with hands, no fingers
grazing over notebooks, nothing like that.
Have you ever walked across a plank
inside a defunct factory? And suddenly,
during the tour, some spigot
pops and a wild pressure of different air
sprays into the room, and you don't know
whether or not this is an emergency,
but you can see that at one time
the giant machines pushed and boiled and set off
a motion that became a smoke, or a pile
of dust, and the din was loud, and the day outside
went quiet? One or two times
I got in trouble, but this was for not paying attention.
You see, there was nothing suspect,
not a single wayward hair.