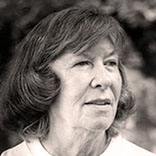 Mona Jane Van Duyn (May 9, 1921 – December 2, 2004) was an American poet.
She won every major American award for poetry and was appointed Poet Laureate Consultant in Poetry to the Library of Congress in 1992.
DEATH BY AESTHETICS
Mona Van Duyn
Here is the doctor, an abstracted lover,
dressed as a virgin, coming to keep the tryst.
The patient was early; she is lovely; but yet
she is sick, his instruments will agree on this.
Is this the place, she wonders, and is he the one?
Yes, love is the healer, he will strip her bare,
and all his machinery of definition
tells her experience is costly here,
so she is reassured. The doctor approaches
and bends to her heart. But she sees him sprout like a tree
with metallic twigs on his fingers and blooms of chrome
at his eye and ear for the sterile ceremony.
Oh tight and tighter his rubber squeeze of her arm.
'Ahhh' she sighs at a chilly touch on her tongue.
Up the tubes her breath comes crying, as over her,
back and breast, he moves his silver thumb.
His fluoroscope hugs her. Soft the intemperate girl,
disordered. Willing she lies while he unfolds
her disease, but a stem of glass protects his fingertips
from her heat, nor will he catch her cold.
He peels her. Under the swaddling epiderm
her body is the same blue bush. Beautiful canals
course like a postcard scene that's sent him often.
He counts the tiptup, tiptup of her dutiful valves.
Pain hides like a sinner in her mesh of nerves.
But her symptoms constellate! Quickly he warms
to his consummation, while her fever flares
in its wick of vein, her wicked blood burns.
He hands her a paper. 'Goodbye. Live quietly,
make some new friends. I've seen these stubborn cases
cured with time. My bill will arrive. Dear lady,
it's been a most enjoyable diagnosis.'
She clings, but her fingers slip on his starchy dress.
'Don't leave me! Learn me! If this is all, you've swindled
my whole booty of meaning, where is my dearness?
Pore against pore, the delicate hairs commingled,
with cells and ligaments, tissue lapped on bone,
meet me, feel the way my body feels,
and in my bounty of dews, fluxes and seasons,
orifices, in my wastes and smells
see self. Self in the secret stones I chafed
to shape in my bladder. Out of a dream I fished
the ache that feeds in my stomach's weedy slough.
This tender swelling's the bud of my frosted wish.
Search out my mind's embroidery of scars.
My ichor runs to death so speedily,
spit up your text and taste my living texture.
Sweat to hunt me with love, and burn with me.'
But he is gone. 'Don't touch me' was all he answered.
'Separateness,' says the paper. The world, we beg,
will keep her though she's caught its throbbing senses,
its bugs still swim in her breath, she's bright with its plague.
============
EARTH TREMORS FELT IN MISSOURI
Mona Van Duyn
The quake last night was nothing personal,
you told me this morning. I think one always wonders,
unless, of course, something is visible: tremors
that take us, private and willy-nilly, are usual.
But the earth said last night that what I feel,
you feel; what secretly moves you, moves me.
One small, sensuous catastrophe
makes inklings letters, spelled in a worldly tremble.
The earth, with others on it, turns in its course
as we turn toward each other, less than ourselves, gross,
mindless, more than we were. Pebbles, we swell
to planets, nearing the universal roll,
in our conceit even comprehending the sun,
whose bright ordeal leaves cool men woebegone.