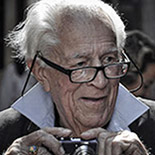 David Douglas Duncan (January 23, 1916 – June 7, 2018) was an American photojournalist who is best known for his dramatic combat photographs.
He compiled many of his photos into a book called This Is War! (1951), with the proceeds going to widows and children of Marines who had been killed in the conflict. Duncan is considered to be the most prominent combat photographer of the Korean War.
In the Vietnam War, Duncan eventually compiled two additional books, I Protest! (1968) and War Without Heroes (1970). Here, Duncan stepped out of his role as a neutral photographer and challenged how the US government was handling the war.
Aside from his combat photographs, Duncan is also known for his photographs of Pablo Picasso, to whom he had been introduced by fellow photographer Robert Capa. Eventually he published seven books of photographs of Picasso. Duncan became a close friend of Picasso and was the only person allowed to photograph many of Picasso's private paintings. Duncan now lives in Castellaras, France, close to Mougins where Picasso spent his last 12 years.
Duncan greatly assisted Nippon Kogaku (Nikon) during their early years, and in 1965 he was presented with the 200,000th Nikon F built in recognition for his use and popularization of their camera.