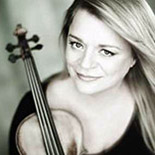 Angèle, Canadian violinist, born March 24, 1962.
Dubeau is a graduate and First Prize winner of the Conservatoire de musique du Québec à Montréal. She studied at the Juilliard School of Music with Dorothy DeLay and later went to Romania to work with Ştefan Gheorghiu. Since that time, Dubeau has been regarded as one of Canada's most prominent classical performing artists. Besides Dubeau, only a few other classical soloists have a certified Gold record for 50,000 albums sold in a given year.
In 1997, Dubeau created the all-female string ensemble "La Pietà." This ensemble has performed in numerous concert halls in Canada, the United States, China and Japan, receiving rave reviews from local papers and radio stations. As of 2006, they have recorded seven albums and one DVD, which topped the Canadian charts.
Dubeau plays on the "Des Rosiers" Stradivarius violin from 1733. She received this violin in 1976 when the violinist and previous owner Arthur Leblanc met Dubeau and heard her play.