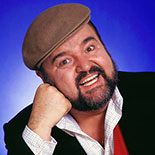 Dominick "Dom" DeLuise (August 1, 1933 – May 4, 2009) was an American actor, comedian, film director, television producer, chef, and author.
He was the husband of actress Carol Arthur from 1965 until his death and the father of actor, director, pianist, and writer Peter DeLuise, actor David DeLuise, and actor Michael DeLuise.
DeLuise starred in a number of movies directed by Mel Brooks, in a series of films with career-long best friend Burt Reynolds, and as a voice actor in various animated films by Don Bluth.