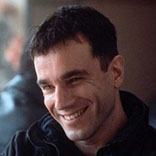 Daniel Michael Blake Day-Lewis (born April 29, 1957) is an English actor.
He holds both British and Irish citizenship. Born and raised in London, he is the son of Poet Laureate Cecil Day-Lewis and actress Jill Balcon. Despite his traditional actor training at the Bristol Old Vic, he is considered to be a method actor, known for his constant devotion to and research of his roles. He often remains completely in character for the duration of the shooting schedules of his films, even to the point of adversely affecting his health. He is known as being one of the most selective actors in the film industry, having starred in only five films since 1998, with as many as five years between each role.
Day-Lewis is one of the most acclaimed actors of his generation and has earned numerous awards, including three Academy Awards for Best Actor, for his portrayals of Christy Brown in My Left Foot (1989), Daniel Plainview in There Will Be Blood (2007), and Abraham Lincoln in Lincoln (2012), a feat that makes him to date one of three male actors to win three Oscars (the other two being Walter Brennan and Jack Nicholson), and the only male actor in history to garner three wins in the lead actor category. Day-Lewis has also won four BAFTA Awards for Best Actor, three Screen Actors Guild Awards, three Critics' Choice Movie Awards, and two Golden Globe Awards.