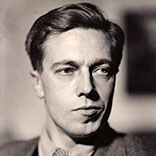 Cecil Day Lewis (April 27, 1904 – May 22, 1972) was an Anglo-Irish poet.
He was the Poet Laureate of the United Kingdom from 1968 until his death in 1972. He also wrote mystery stories under the pseudonym of Nicholas Blake. He is the father of actor Daniel Day-Lewis and documentary filmmaker and television chef Tamasin Day-Lewis.
IS IT FAR TO GO?
Cecil Day Lewis
Is it far to go?
A step – no further.
Is it hard to go?
Ask the melting snow,
The eddying feather.
What can I take there?
Not a hank, not a hair.
What shall I leave behind?
Ask the hastening wind,
The fainting star.
Shall I be gone long?
For ever and a day.
To whom there belong?
Ask the stone to say,
Ask my song.
Who will say farewell?
The beating bell.
Will anyone miss me?
That I dare not tell –
Quick, Rose, and kiss me.