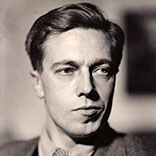 Cecil Day Lewis (April 27, 1904 – May 22, 1972) was an Anglo-Irish poet.
He was the Poet Laureate of the United Kingdom from 1968 until his death in 1972. He also wrote mystery stories under the pseudonym of Nicholas Blake. He is the father of actor Daniel Day-Lewis and documentary filmmaker and television chef Tamasin Day-Lewis.
A HARD FROST
Cecil Day-Lewis
A frost came in the night and stole my world
And left this changeling for it – a precocious
Image of spring, too brilliant to be true:
White lilac on the window-pane, each grass-blade
Furred like a catkin, maydrift loading the hedge.
The elms behind the house are elms no longer
But blossomers in crystal, stems of the mist
That hangs yet in the valley below, amorphous
As the blind tissue whence creation formed.
The sun looks out and the fields blaze with diamonds
Mockery spring, to lend this bridal gear
For a few hours to a raw country maid,
Then leave her all disconsolate with old fairings
Of aconite and snowdrop! No, not here
Amid this flounce and filigree of death
Is the real transformation scene in progress,
But deep below where frost
Worrying the stiff clods unclenches their
Grip on the seed and lets
the future breathe.
==========
IS IT FAR TO GO?
Cecil Day Lewis
Is it far to go?
A step – no further.
Is it hard to go?
Ask the melting snow,
The eddying feather.
What can I take there?
Not a hank, not a hair.
What shall I leave behind?
Ask the hastening wind,
The fainting star.
Shall I be gone long?
For ever and a day.
To whom there belong?
Ask the stone to say,
Ask my song.
Who will say farewell?
The beating bell.
Will anyone miss me?
That I dare not tell –
Quick, Rose, and kiss me.