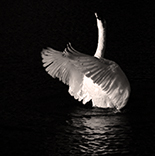 Elizabeth M. Dalton, American poet.
SWAN'S SONG
Elizabeth M. Dalton
The snowflakes flutter down outside our bedroom
window; framing you, neck bent, outstretched
toward me. The silver down upon your breast
holds the winter air at bay. I press
my lips deep into your plumes, onto the silky,
skin that leaps for me. My fingers trace
the history in the lines etched on your cheek;
your tongue re-paints the stretch marks on my hip.
You'll glide along me like swan upon
its own reflection, skimming sheets, and tossing
among the pillow swells. The mattress
crests, spraying memories locked inside
the creaking springs—a broken bag
of waters, milk spilled from a newborn's lips,
a thousand fever' beads of sweat, the sweat
strawberry stain of our May wedding night.
Through the foam of this thick and ancient
lake, we'll propel ourselves along;
our undulating necks, those pendulums,
push us deep into the night, where our
glistening cries will pierce the dark, like stars.