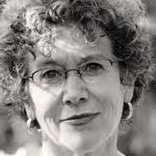 Lorna Crozier (born May 24, 1948) is a Canadian poet.
Crozier has authored 15 books which typically focus on human relationships, the natural world, language, and memory and perception.
TO SEE CLEARLY
Lorna Crozier
The strawlike strands of grass are frosted
only on one side, but the thorn
of the wild rose is feathered all around,
even on its tip, a soft flared tuft.
The task: to see clearly
so that even the ear becomes a kind of eye
taking you beyond the small circle
of your sight — even the mouth —
magpie, magpie over the southern hill.
In the grove, birches move in and out of snow
as if the wind were made of wheels and pulleys,
trees dropping from the sky so suddenly
you gasp and fog your glasses.
Instead of shadows there are streaks of gold!
Don't think the snow can't see you
reeling in the light.