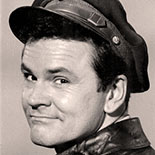 Robert Edward "Bob" Crane (July 13, 1928 – June 29, 1978) was an American actor and disc jockey.
Crane began his career as a disc jockey in New York and Connecticut before moving to Los Angeles where he hosted the number-one rated morning show. In the early 1960s, he moved into acting. Crane is best known for his performance as Colonel Robert E. Hogan in the CBS sitcom Hogan's Heroes. The series aired from 1965 to 1971, and Crane received two Primetime Emmy Award nominations for his work on the series.
After Hogan's Heroes ended, Crane's career declined. He became frustrated with the few roles he was being offered and began doing dinner theater. In 1975, he returned to television in the NBC series The Bob Crane Show. The series received poor ratings and was canceled after 13 weeks. Afterwards, Crane returned to performing in dinner theaters and also appeared in occasional guest spots on television.