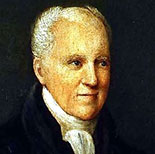 George Crabbe (December 24, 1754 – February 3, 1832) was an English poet, surgeon, and clergyman. He is best known for his early use of the realistic narrative form and his descriptions of middle and working-class life and people.
In the 1770s, Crabbe began his career as a doctor's apprentice, later becoming a surgeon. In 1780, he traveled to London to make a living as a poet. After encountering serious financial difficulty and being unable to have his work published, he wrote to the statesman and author Edmund Burke for assistance. Burke was impressed enough by Crabbe's poems to promise to help him in any way he could. The two became close friends and Burke helped Crabbe greatly both in his literary career and in building a role within the church.
Burke introduced Crabbe to the literary and artistic society of London, including Sir Joshua Reynolds and Samuel Johnson, who read The Village before its publication and made some minor changes. Burke secured Crabbe the important position of Chaplain to the Duke of Rutland. Crabbe served as a clergyman in various capacities for the rest of his life, with Burke's continued help in securing these positions. He developed friendships with many of the great literary men of his day, including Sir Walter Scott, whom he visited in Edinburgh, and William Wordsworth and some of his fellow Lake Poets, who frequently visited Crabbe as his guests.
Lord Byron described him as "nature's sternest painter, yet the best." Crabbe's poetry was predominantly in the form of heroic couplets, and has been described as unsentimental in its depiction of provincial life and society. The modern critic Frank Whitehead wrote that "Crabbe, in his verse tales in particular, is an important–indeed, a major–poet whose work has been and still is seriously undervalued." Crabbe's works include The Village (1783), Poems (1807), The Borough (1810), and his poetry collections Tales (1812) and Tales of the Hall (1819).
GENIUS
George Crabbe
Genius! thou gift of Heaven, thou light divine!
Amid what dangers art thou doom'd to shine.
Oft will the body's weakness check thy force,
Oft damp thy vigour, and impede thy course;
And trembling nerves compel thee to restrain
Thy nobler efforts to contend with pain
Or want (sad guest!) will in thy presence come,
And breathe around her melancholy gloom;
To life's low cares will thy proud thought confine,
And make her sufferings—her impatience—thine.
=========
MEETING
George Crabbe
My Damon was the first to wake
The gentle flame that cannot die;
My Damon is the last to take
The faithful bosom's softest sigh:
The life between is nothing worth,
O cast it from thy thought away!
Think of the day that gave it birth,
And this its sweet returning day.
Buried be all that has been done,
Or say that naught is done amiss;
For who the dangerous path can shun
In such bewildering world as this?
But love can every fault forgive,
Or with a tender look reprove;
And now let naught in memory live
But that we meet, and that we love.