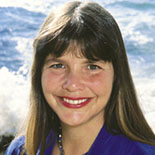 Lynne Cox (born January 2, 1957) is an American long-distance open-water swimmer and writer.
In 1971, she and her teammates were the first group of teenagers to complete the crossing of the Catalina Island Channel in California.
She has twice held the record for the fastest crossing (men or women) of the English Channel (1972 in a time of 9h 57 mins and 1973 in a time of 9h 36 mins). In 1975, Cox became the first woman to swim the 10 °C (50 °F), 16 km (10 mi) Cook Strait in New Zealand. In 1976, she was the first person to swim the Straits of Magellan in Chile, and the first to swim around the Cape of Good Hope in South Africa.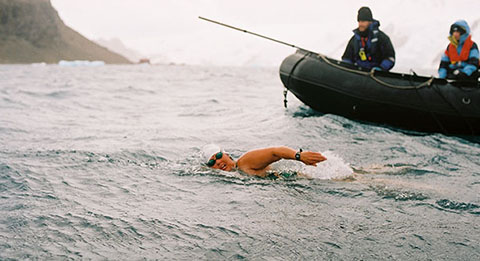 Cox is perhaps best known for swimming 2h 5 mins in the Bering Strait on August 7, 1987, from the island of Little Diomede in Alaska to Big Diomede, then part of the Soviet Union, where the water temperature averaged around 43 to 44 °F (6 to 7 °C). At the time people living on the Diomede Islands—only 3.7 km (2.3 miles) apart—were not permitted to travel between them, although the Eskimo communities there had been closely linked until the natives of Big Diomede were moved to the Russian mainland after World War II. Her accomplishment eased Cold War tensions as Ronald Reagan and Mikhail Gorbachev both praised her success.
Another of her accomplishments was swimming more than a mile (1.6 km) in the waters of Antarctica. Cox was in the water for 25 minutes, swimming 1.22 miles (1.96 km). Her book about the experience, Swimming to Antarctica, was published in 2004.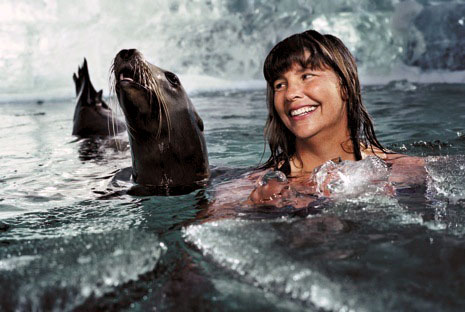 Her second book, Grayson, details her encounter with a lost baby gray whale during an early morning workout off the coast of California. It was published in 2006.
In August 2006 she swam across the Ohio River in Cincinnati from the Serpentine Wall to Newport, Kentucky to bring attention to plans to decrease the water quality standards for the Ohio River.
In 2011 she published South with the Sun, both a biography of Roald Amundsen and a chronicle of her 2007 swimming expedition to Greenland, Baffin Island and Alaska, tracing Amundsen's Northwest Passage expedition.
The asteroid 37588 Lynnecox was named in her honor.