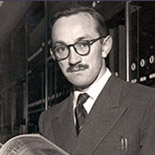 Alexander Comfort, (February 10, 1920 – March 26, 2000) was a British scientist and physician best known for his nonfiction sex manual, The Joy of Sex (1972). He was an author of both fiction and nonfiction, as well as a gerontologist, anarchist, pacifist, and conscientious objector.
The Joys of Sex made Comfort internationally known as "Dr. Sex" and shortly thereafter he and his wife of thirty years divorced. A few months later, in 1973, Comfort married his mistress (and ex-wife's best friend) Jane Henderson, with whom he had been having an affair for more than a decade. (The illustrations in The Joys of Sex were based on Polaroids that Comfort and Henderson had taken and given to the publisher.) The Center for the Study of Democratic Institutions, a liberal think tank, offered Comfort a job, so the couple moved to Santa Barbara, California, where it was located.
They frequented the Sandstone Retreat, a clothing-optional community in California espousing "open sexuality", or swinging. In his 1981 nonfiction on sexuality in America, Thy Neighbor's Wife, Gay Talese noted, "Often the nude biologist Dr. Alex Comfort, brandishing a cigar, traipsed through the room between the prone bodies with the professional air of a lepidopterist strolling through the fields waving a butterfly net".
Jane Henderson, however, eventually grew tired of the "open love" community and Comfort became involved in lawsuits with his employer over a claimed breach of contract. In 1985, the couple returned to England, where they lived out the remainder of their lives in Kent. In 1991, Comfort suffered a severe cerebral hemorrhage, after which his son from his first marriage acted as caretaker and business manager. His second wife Jane Henderson died shortly after the hemorrhage. He died on 26 March 2000; he was eighty years old.